Laminate Flooring Dealers:
Waterloo, Elk Run Heights, Evansdale, Washburn
See all of the flooring stores near Waterloo IA that will assist you in selecting the perfect laminate flooring! Most store are full service dealers that carry all types of flooring. You can also determine if each store in offers laminate flooring installation, repair and cleaning! Our selection of laminate flooring offers the perfect combination of beauty, maintenance and durability. With hundreds of unique colors and patterns, you are sure to find the perfect look to coordinate with your decor.

Menards
Menards
1051 East San Marnan Drive
Waterloo
,
IA
50702
319-234-1500

0 miles from waterloo, IA
---
---
Major Laminate Flooring Brands:
Tarkett Laminate Flooring
---
Riley's Floors & More Inc
Riley's Floors & More Inc
3230 Marnie Ave
Waterloo
,
IA
50701
319-233-9911

1 miles from waterloo, IA
---
---
Major Laminate Flooring Brands:
Shaw Laminate Flooring, Tarkett Laminate Flooring, Mannington Laminate Flooring
Laminate Flooring Products:
Laminate Flooring, Laminate Flooring Planks
---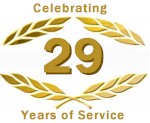 BK Tile & Abbey Flooring
BK Tile & Abbey Flooring
1922 Main Street
Cedar Falls
,
IA
50613
319-553-3933

7 miles from waterloo, IA
---
---
Laminate Flooring Products:
Laminate Flooring, Laminate Flooring Blocks, Laminate Flooring Planks, Laminate Flooring Tile
---
D & W Floor Covering Inc
D & W Floor Covering Inc
3400 S Hudson Rd
Cedar Falls
,
IA
50613
319-988-3587

7 miles from waterloo, IA
---
---
Major Laminate Flooring Brands:
Shaw Laminate Flooring, Tarkett Laminate Flooring, Mannington Laminate Flooring, Bruce Laminate Flooring
Laminate Flooring Products:
Laminate Flooring, Laminate Flooring Planks, Laminate Flooring Tile

---
Fairbank Floor Covering
Fairbank Floor Covering
301 East Main
Fairbank
,
IA
50629
319-635-2056

18 miles from waterloo, IA
---
---
Major Laminate Flooring Brands:
Tarkett Laminate Flooring
---
Moeller & Walter
Moeller & Walter
101 Blackhawk Street
Reinbeck
,
IA
50669
319-788-6459

18 miles from waterloo, IA
---
---
Laminate Flooring Products:
Laminate Flooring Planks, Laminate Flooring Tile
---
---
Narrow Your Focus for a Particular Brand of Wood Flooring, Hardwood Flooring
---
Narrow Your Focus for a Particular Product Type of Wood Flooring, Hardwood Flooring